Ann and Stephanie were profiled in the February 2012 issue of the
US1
Newspaper.   We're proud to be owned and managed by a team of powerful women, read the full story here:
ERA Central Realty Group: Innovation Runs in the Family
Ann Davis and Stephanie Bellanova are a trailblazing, mother-daughter team with a history of reshaping the local real estate industry. In 1986, Ann Davis challenged two industry standards when she opened the doors of her real estate brokerage. In a field long dominated by men, Ann Davis & Associates was a brokerage owned and managed entirely by women. Furthermore, the company was founded on Ann's unique vision — that by fostering a culture of teamwork, education, and shared expertise, she could guarantee success for her growing organization of real estate professionals. This cooperative concept was a dramatic departure from the idea that competition was the key to success in real estate — and one that Ann Davis has stayed true to for her more than 30 years as a business owner at the helm of the company now trading as ERA Central Realty Group.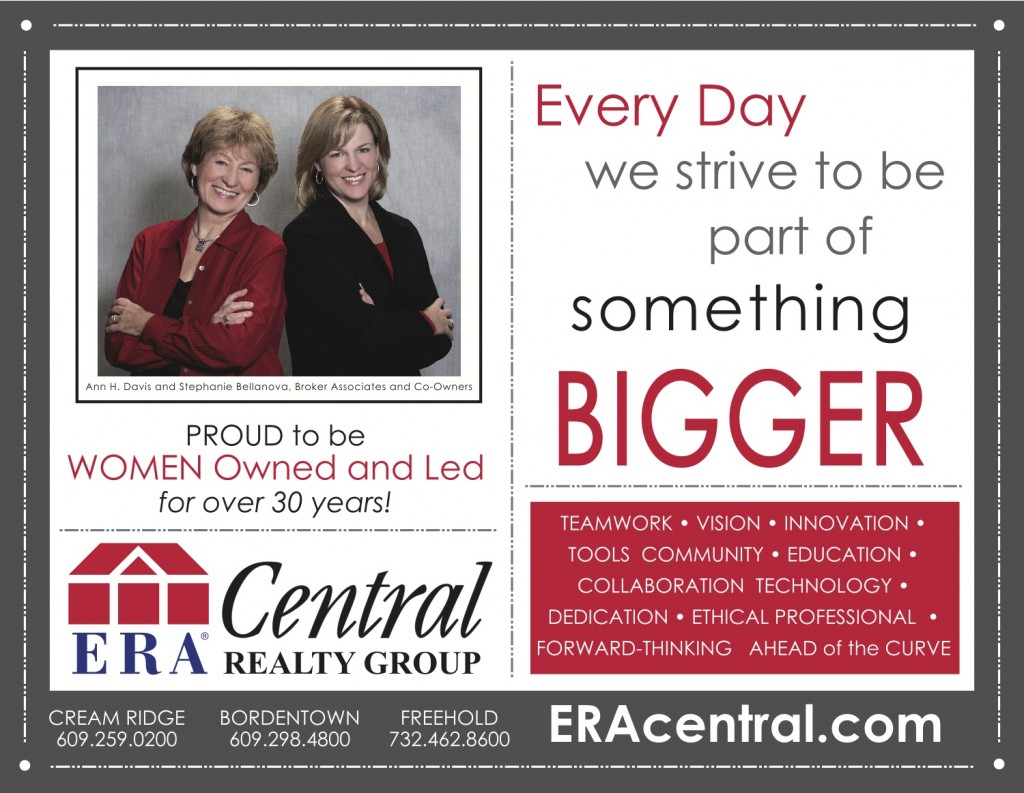 While the name of the company has changed, ERA Central Realty Group is still owned and managed by women. Ann's daughter, Stephanie Bellanova, has brought her own vision of change to the world of central New Jersey real estate. As co-owner of ERA Central Realty Group, Stephanie keeps the company at the cutting edge of technology and training. A charter member of the ERA Young Leaders Network, Stephanie is part of a national dialogue shaping the next generation of real estate entrepreneurs. She continues to innovate on a local level with her work in marketing, training, and successful implementation of technology, keeping pace with the modern agent as well as today's real estate consumers.
Balance is key, and Ann and Stephanie partner to maintain the cooperative culture at ERA Central Realty Group by focusing on the individual strengths of agents as well as staff. In addition to the support of an in-house real estate instructor, who offers continuing education, ERA Central also has a marketing department and technology team. Each and every day, seasoned professionals share 30-plus years of experience with the next generation who offer their own expertise in social media and technology. Their philosophy is that, with a collaborative team, both agents and consumers benefit. In Ann's words, "We are a family. As a real estate agent, you are an independent contractor so you think, 'I'm supposed to be independent,' but in reality, real estate is interdependent."
As Ann and Stephanie look to the future, the interdependent nature of real estate seems ever more apparent. The past five years in the industry have reinforced the impact a healthy real estate market has on its community. An ethical, socially responsible company benefits not only its agents, but the community as a whole. With this in mind, ERA Central Realty Group maintains a focus on the local communities, through volunteerism and fundraising. In 2012, they successfully raised more than $8,500 for the Muscular Dystrophy Association and sent eight children with neuromuscular disease to MDA Summer Camp. The EDGE Scholarship, funded by ERA Central Realty Group agents, gives scholarships each year to the next generation of entrepreneurs by supporting local high school seniors pursuing a college degree.
The company continues to grow, while staying true to Ann's vision from that first day in business. In each decision, Stephanie keeps that vision front of mind: "For us, it's about supporting our agents and empowering them to achieve their personal goals." It is a sentiment felt by their team, and echoed by an agent in their Bordentown branch: "Stephanie and Ann have given me the greatest opportunity of my professional life. Their support and leadership have helped me achieve a true career. Their reputation makes me proud each day to say I work with them."
A fitting testament to their vision, and one sure to be echoed by hundreds of professionals and consumers who have been impacted by the leadership of these two innovative women.