More than $80,000 awarded to local students since 2005.
ERA Central Realty Group is more than just a real estate company; we are a part of your community. We understand that families need to be nurtured and supported as they grow, and we take pride in being there for you every step of the way. That's why we are excited to offer the EDGE Scholarship program to college-bound students in New Jersey.
The EDGE Scholarship is our way of honoring our community and the families who have supported us over the last two decades. This program provides multiple scholarships annually to support undergraduate education at an accredited school. We are looking for students who have the EDGE – those who are Ethical, Dedicated, Genuine, and Entrepreneurial – reflecting the same ideals for which our REALTOR® professionals are well known.
To be eligible for the scholarship program for the 2023-2024 academic year, college-bound students from New Jersey must apply during their senior year and have a minimum GPA of 2.5. Home-schooled students are also eligible and are encouraged to apply. The scholarships will be awarded to students who have demonstrated ethical, forward-thinking, results-oriented life and work habits and who take a proactive approach to their own life and to the life in their communities. Applicants must be planning to pursue a bachelor's degree.  Children of ERA Central Realty Group associates are not eligible to apply.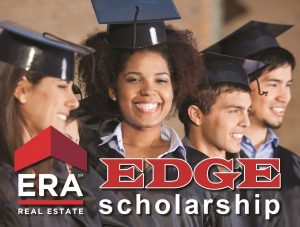 To be considered for one of our EDGE Scholarships, completed applications must be received between January 1, 2024, and March 21, 2024. Applications are available in the high school guidance office or on our website EdgeScholarship.com.  Applicants can mail their applications or drop them off in person to ERA Central Realty Group, 3379 US 206, Bordentown, NJ 08505. or email them to EDGE@ERAcentral.com by the deadline of March 21, 2024.
At ERA Central Realty Group, we are honored to offer scholarships to the members of our community, our family. We hope that the EDGE Scholarship will help students achieve their educational goals and reach their full potential.
Philip Angarone
Realtor Associate®
Chairman, EDGE Scholarship Committee
Ann H. Davis
Chairman Emeritus, EDGE Scholarship Committee
Our EDGE Scholarship Winners
2023
Brooke Kuey – Allentown High School
Olivia Tang – West Windsor Plainsboro North High School
Delia Kline – Manasaquan High School
Melina Sarion – Northern Burlington Regional
2022
Melissa Domen – Allentown High School
Sarah Esmail – Rancocas Valley Regional
Sophia Moret – Howell High School
Arav Raval – Hightstown High School
2021
Hannah Augsback Lamma  – Colts Neck High School
Mary Paskhaver  – West Windsor Plainsboro High School South
Maya Tanikawa – Northern Burlington Regional High School
Kaylee Munster – Allentown High School
Zachary Shafer – Nottingham High School
2020
Ravi Arya, Northern Burlington Regional High School
Madison Cortes, Steinert High School
Charles Vizthum, North Brunswick Township High School
Anthony Surdo, New Egypt High School
Zachary Zawatski, Freehold Township High School
2019
Christopher McLaughlin, Steinert High School
Brenna Stampe, Allentown High School
Lara Lemkin, West Windsor-Plainsboro South High School
Connor Devine, New Egypt High School
2018
Carly Roche, Allentown High School
Erika Golik, Steinert High School
Dominic Esposito, Christian Brothers Academy
Matthew Jacobson, West Windsor Plainsboro High School
2017
Lianna Diaz, Bordentown Regional High School
Courtney Danser, Steinert High School
Damon Tito, Manasquan High School
Allison Wetherell, Notre Dame High School
Ryan Devine, New Egypt High School
2016
Christian Shermin, Hightstown High School
Daniel Midgett, New Egypt High School
Morgan Gravatt, Allentown High School
Hailey Weiss, Northern Burlington Regional High School
2015
Courtney Soden, New Egypt High School
Erika McCormick, Allentown High School
Adam Mitchell Chodes, Northern Burlington Regional High School
Mark Buannic, Howell High School
2014
Kurt Frimel, New Egypt High School
Jason Farkas, Bordentown Regional High School
Hannah Ainsworth, Northern Burlington Regional School
Raza Asghar, Colts Neck High School
2013
Danielle Grasso, New Egypt High School
Erica Mahnkopf, Allentown High School
2012
Anthony Tucker, New Egypt High School
Emily Nalbone, Allentown High School
Jennifer Bognar, Bordentown Regional High School
Kara Capasso, Shawnee High School
2011
Victoria Hurley, New Egypt High School
Laura Malinoski, Rancocas Valley Regional High School
Angela Casaleno, Cherokee High School
2010
Michael Girandola, Allentown High School
Joseph Gallo, Hamilton High West
Albertine Shain, Bordentown Regional High School
Michele Dey, New Egypt High School
Jacquilyn Oschell, Rancocas Valley Regional High School
2009
Anthony Waller, New Egypt High School
Terrance Scotton, Burlington Township High School
Jennifer Bhiro, Northern Burlington Regional High School
Robert Michael Pletcher, Rancocas Valley High School
Faaiza Butt, Bordentown Regional High School
2008
Shaun Strausman, Hightstown High School
Deborah Wu, Hamilton West High School
Brittany English, Robbinsville High School
Michelle Malloy, New Egypt High School
Joelle Tolifero, Florence High School
Laura Weller, Bordentown Regional High School
Amanda Leggio, Rancocas Valley High School
2007
Christina Pettola, Lawrence High School
Matthew Cortland, Cherokee High School
Ran Fan, Cherry Hill East High School
Alyssa Ingling, Allentown High School
Candace Stone, Trenton Central High School
Elizabeth Kimport, Rancocas Valley High School
2006
Christine Beal, Allentown High School
Sara Messinger, New Egypt High School
Jenna Vaccaro, Allentown High School
2005
Kenneth Beal, Allentown High School
Todd McGonigal, Jr., Bordentown Regional High School
Leon Malloy, New Egypt High School